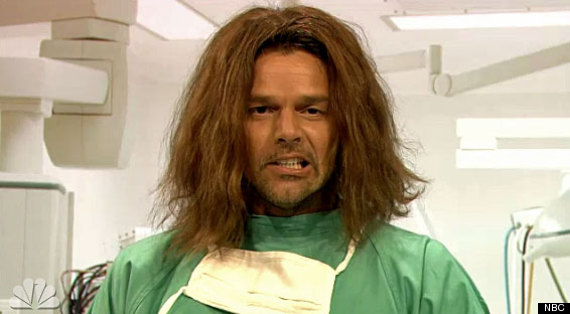 Ricky Martin estuvo de invitado el jueves en el show "Late Night With Jimmy Fallon", en donde hizo un divertido sketch junto al comediante y conductor relacionado a su etapa como actor en la telenovela "General Hospital".
Como un par de médicos analizando sus casos del día, Jimmy y Ricky se pusieron pelucas y comenzaron a incluir en la conversación frases memorables de éxitos de la carrera del boricua, como "Livin' La Vida Loca", "She Bangs", "The Cup Of Life" y "Shake Your Bon Bon".
Antes de hacer sus ocurrentes "escenas de quirófano", Ricky recuerda que su actuación en "General Hospital" en 1994, como el personaje Miguel Morez, fue su primera gran oportunidad en Estados Unidos.
Mira arriba el video cortesía de NBC para que veas cómo se divirtieron Ricky y Jimmy Fallon.
¿QUÉ OPINAS DE ESTA PARODIA QUE HIZO RICKY CON JIMMY FALLON? AGREGA SI DESEAS TU COMENTARIO
MÁS DE RICKY MARTIN: